Anthony Cox, Chris Bates, Dave King, JT Bates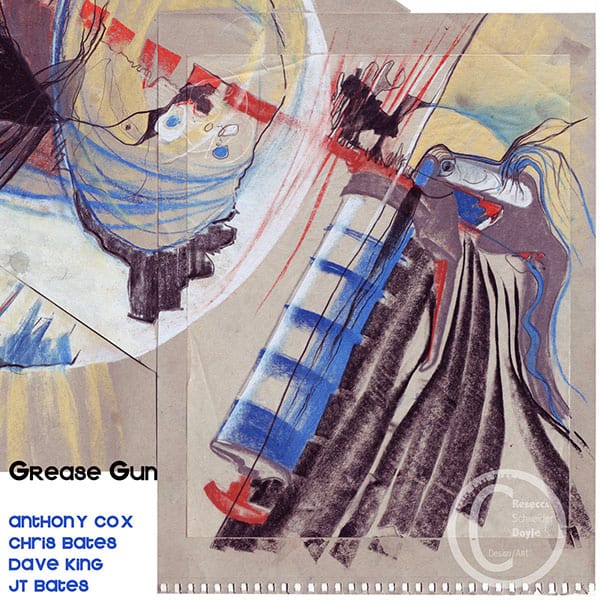 Anthony Cox – upright & electric bass, electronics
Chris Bates – upright & electric bass, electronics
Dave King – drums, cymbals, SPDS
JT Bates – drums, cymbals, percussion
Grease Gun. A madcap dream to connect and create with some of my best friends in music. This album is the result of one day in the studio in April 2012, with these four distinct personalities.
Thanks to JT Bates my main man and brother. Anthony Cox my friend, mentor, and all-around inspiring badass! Dave King – thank you for playing on this and for moving back to Minneapolis in the mid-'90s, thoroughly turning the collective ears of our little crew.
Every note you hear on this recording was improvised in the moment and the tracks were edited from these jams. At 1 hour and 56 minutes of music it's a deep dive into a 2 bass / 2 drum quartet. Tread carefully.
When I began the process of mixing and editing these improvisations I could not bring myself to cut them up! I was attached to the way it all unfolded in the studio. The numbering system basically shows that we played 6 segments of music. Number four is missing because it will be released separately as an exclusive track on an upcoming compilation. Sorry, but I already committed to the release well before I decided to launch this into the world here. The evolution of each track was so interesting and occurred in such an organic way that I have decided to release this in the order it was recorded. SO, if you desire, you can load these tracks up into your favorite player and they should connect organically to each other in several places.
Special note regarding the album artwork. All paintings and subsequent photos were created by Rebecca Doyle. Just a couple of months after the recording sessions I gave her the tracks and she created many images from the music. I see her work as a continuation of our musical process and I hope you enjoy the artwork as much as the songs. Please check her work out. instagram.com/rebecdoyle
As I write this in 2020 my memory of this session is somewhat foggy but the music holds up as a testament to listening and playing in harmonious synchronicity with one another. thanks for listening – cb
Recorded and mixed by Brett Bullion
1A_FIRSTCUT 6:11
1B_SOLECISMS 2:54
1C_PULSES 5:52
1D_SOLID AMBIGUITY 7:20
1D_EDIT2_DUET FOR BASS & SPDS 0:45
2A_CARPOOL TUNNEL SYNDROME 5:16
2B_DeJOHNETTE's UPSTAIRS, PEART CALLED 5:00
2C_OOZE 5:37
2D_NEW WAVE LULLABY 4:38
2E_DO I STUTTER?? 2:24
2F_NOISEMAKERS 9:04
3A_Lament for the Croupier dealing roulette in, The Twilight Zone 9:38
3B_adrift, broken mast 2:58
3C_minimum density 4:30
5A_Soundtrack to Real Bulls of Beverly Hills (radio edit) 9:13
5B_Omniscient Chicken (Shep Pettibone remix) 11:15
6A_FRAGSTRACT ABMENT 3:49
6B_ABSTRACT FRAGMENT 1:46
6C_QUESTIONS COME LATER, 1:44
6D_ANSWERS COME NOW. 1:24
6E_APERTIF FOR DYSFUNCTION 5:25
6F_Straight Up Going Down (Live in Tokyo, Spring '78) 8:35