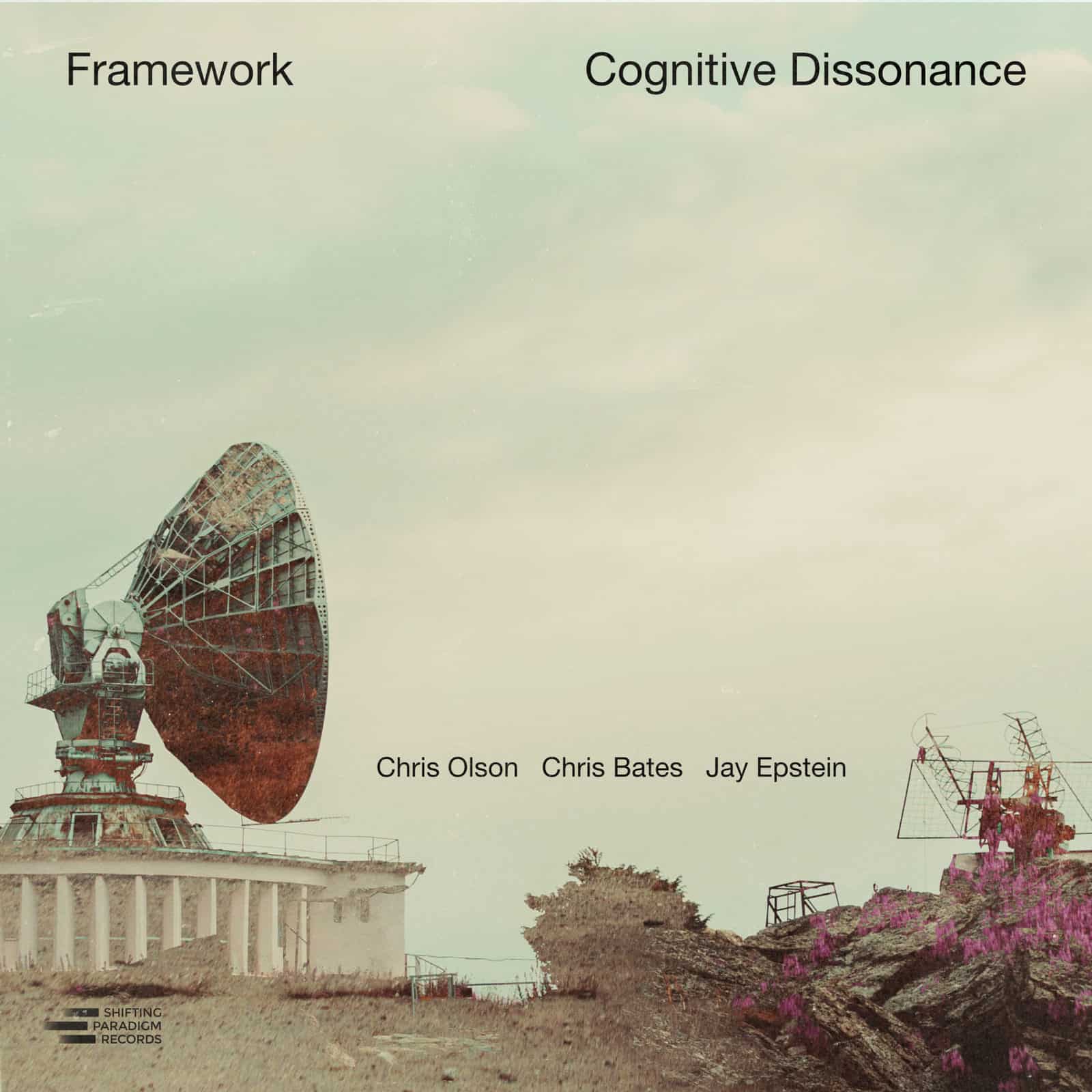 Chris Olson – guitar
Jay Epstein – drums
Chris Bates – bass
Releasing on 8/27/2021 – The second album from Twin Cities stalwarts Chris Olson, Chris Bates, and Jay Epstein takes on difficult themes with their usual cerebral yet visceral approach to the guitar-led trio.
Cognitive Dissonance is the second album from long-standing Twin Cities trio Framework, featuring guitarist Chris Olson, bassist Chris Bates and drummer Jay Epstein. It follows the acclaimed 2009 eponymous debut which was hailed as one of the best Minnesota jazz albums of the year by the Minneapolis Star-Tribune who described it as "both cerebral and visceral, electric and acoustic, with sublime compositions, and enviable empathy." Those elements are on full display once again on Cognitive Dissonance, with 10 new original compositions from Olson and "New Anthem," a reimagining of the "Star Spangled Banner," which bookends the album.
Founded in 1997, Framework began by exploring and creating music inspired by artists such as Keith Jarret, Gateway, Ralph Towner and Bill Evans. Now more than two decades on, they have shaped their collective sound into a beautiful ensemble that can freely explore almost any area of the musical map. In late 2019, Framework started rehearsing for this new album, a process which was first interrupted by the pandemic and then by the murder and of George Floyd and subsequent protests and riots that tore apart the trio's city of Minneapolis. As the dust settled, Framework went into the studio in late summer of 2020 with Grammy winning drummer and engineer JT Bates. After the events of the previous months, the music took on a greater depth and meaning. Though the compositions were all written before these events, the titles that inspired the music initially took on greater and even sometimes new meaning, becoming more poignant, biting, satirical, cynical and even angry in the months that followed.
"New Anthem" was inspired by the incompetent singing of the "Star Spangled Banner" at a Trump rally and this dissonant reworking starts and ends the record. "Hitchens" is a dedication to the late atheist writer Christopher Hitchens and finds the trio rocking and burning. "Anyway" was inspired by a poem about the struggle of a girl trying to escape the confines of gender norms, and is followed by a jazz waltz, "Pre-Conceived Notion," another piece about closed- mindedness.
"Relapse" is marked by a repeated motive which represents the human tendency to keep falling into the same bad behaviors. After a year of good people banding together against adversity, the challenge is to not relapse into complacency. Bassist Bates takes the melody on "Dawkins," a second dedication to an atheist writer, Richard Dawkins, which is appropriately more introspective and polite than "Hitchens," though both pay tribute to
these intellectuals with harmonic and metric complexity.
Olson channels Thelonious Monk with "Bluetrois," a simple 12 bar blues with three different melodies, first presented alone, then intertwined, followed by some playful trading between the band. "Changes We Believe In" is another tune in 3/4 time, written in 2008 with inspiration from the similarly worded presidential campaign slogan of Barrack Obama.
"Valentune" is a love song for those who've spent Valentine's Day alone. "Tortured Thoughts," though originally devised as an exercise in harmony, captures the emotion of the last year and a half, both in name and in the way these three musicians express themselves. The title track is a drum feature for Epstein, followed by an angular tone-row and powerful ending, punctuating the frustration caused by the cognitive dissonance of world leaders and many of their followers.
Though they did not set out to record a political record, the nature of the music and the time during which they recorded seems to have done just that. While Framework holds no grand illusions that music is the answer to these problems, they believe that music is a unifying and healing force; a vibration of human spirit and ingenuity that can soothe a troubled mind or inspire others to look into themselves and see one another from a different perspective and hope that music can help move us past our cognitive dissonance.
About Framework:
Guitarist Chris Olson is a graduate of the University of North Texas and a dedicated educator who has performed with Bob Mintzer, Louis Bellson, Terry Gibbs, Ira Sullivan, and Bobby Vinton. Bassist Chris Bates serves as a key member of the Twin Cities jazz scene, leading his own groups while also playing in Atlantis Quartet and Red Planet. Drummer Jay Epstein has been at the heart of the Twin Cities jazz scene since the early 1970s, having toured and recorded with Bill Carrothers, Anthony Cox, and Dean Magraw among others and is one of the area's most revered artists.
Recorded by JT Bates, Alex Proctor, and Robbie Barr at the Boardroom, St. Paul, MN
Mixed by David Bates – 1100fps
Mastered by Bruce Templeton – Microphonic
Artwork by Jamie Briewick – Bside Graphics
Framework would like to thank JT Bates, Alex Proctor, and Robbie Barr for recording us. David Bates for many hours of mixing and fine-tuning. Bruce Templeton for Mastering.
Chris Bates would like to thank Don, Dave, and JT Bates and families for the long-standing support, and to LeeAnn, Colin, Fran, Milli, and Maple for an excellent quarantine.
Chris Olson thanks Cullen, Jimmy, and Camille for inspiration, and Jay and C.B. for transforming my notes into art.
Jay Epstein plays Bosphorus Cymbals
.

1.

New Anthem

2.

3.

Anyway

4.

Pre-Conceived Notion

5.

Relapse

6.

Dawkins

7.

Bluetrois

8.

Changes We Can Believe In

9.

Valentune

10.

Tortured Thoughts

11.

12.

New Anthem (alternate take)