Winter Winter, Turkey dinner
Trucking along. Staying on the mission even though it's a marathon. Everybody's got a lot going on, deviating from the norm, slaying the dragon, going bald. I am supremely grateful that I get to lead a creative life. I can't do it without my family, my friends, and an audience of superior supporters! Thanks!
I've got a Big Holiday Weekend coming up with three really exciting shows and a whole bunch of highlights through the rest of the year. Here's the Update:
FRIDAY NOVEMBER 25th
6:30 pm @ Crooners in the Dunsmore Room
Soul searching, blissful camaraderie
Like Dolphins at Play in the Waves, Red Planet dives into the Music of "Right Now".
Dean Magraw – guitar
Jay Epstein – drums
Chris Bates – bass
Dean Magraw, Jay Epstein and Chris Bates began their journey together as Red Planet in 2004. A mutual love of John Coltrane, Thelonious Monk and Jimi Hendrix provided fertile ground and ample room to explore and create together. Through the music of these masters they have developed a group sound that harnesses the explosiveness of rock and roll, the buoyant jubilation of swing and the searching, probing explorations of open improvisation. Red Planet can take you from a quiet storm of shimmering intimacy to a churning, explosive crescendo of vulcanized power. These three friends LOVE to PLAY and you will definitely be entranced by their communicative energy.
Red Planet released their first album, "Space Dust" in 2011 to great critical acclaim in the Twin Cities. It was hailed as a triumph and served notice that Magraw was back after recovering from cancer. Red Planet returned to action after this with a renewed sense of musicality. Life has a tendency to do that to the music and musician – make it deeper, push you to dig deeper, to pull more impact from each note, put more intimacy into the listening. The bonds of fellowship grow deeper through experience and Dean, Jay and Chris have continued to grow together.
"One of Jazz's most innovative threesomes" – Jazz Police

SATURDAY NOVEMBER 26th
Brandon Wozniak – tenor sax
Zacc Harris – guitar
Pete Hennig – drums
Chris Bates – bass
Award winning band of brothers returns to one of our favorite spaces to play! We are working on a whole array of new music and putting all our efforts into playing this new music more deeply and inventively than ever before. Seems to me it's chemistry.
Atlantis Quartet has emerged as a leading voice in the twin cities' burgeoning modern jazz scene since its inception in 2006. The group features four of Minnesota's most exciting young jazz artists, saxophonist Brandon Wozniak, guitarist Zacc Harris, bassist Chris Bates, and drummer Pete Hennig; who have come together in this setting to create and explore fresh and original sounds in the heart of and on the edges of the jazz idiom. The ensemble's blend of complexity and accessibility has proven a perfect fit for all listeners.
Atlantis Quartet has released four albums to date, Expansion (Shifting Paradigm Records, 2013), Lines In the Sand (2011), Animal Progress (2009), and Again, Too Soon (2007). Recently, the band headlined the opening night of the 2014 Twin Cities Jazz Festival at Mears Park. The group was names Best Jazz Artist by the Star Tribune in 2012 and in 2011 by the City Pages, who said, "No jazz band in the Twin Cities is on the prowl both creatively and in gaining national recognition quite like the Atlantis Quartet…Each player's ideas and strengths seem to infiltrate the others' consciousness, so the music evolves as a constantly shifting mosaic of textures, rhythmic patterns, and tonal colors…This is a band with a limitless future."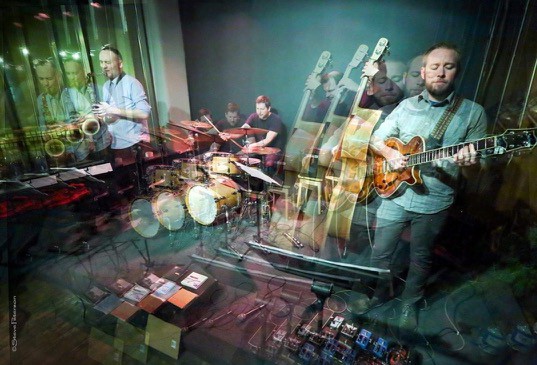 In between the bright lights of Friday, and the far unlit unknown of Saturday night, I'll be playing a quaint little acoustic set of traditional gospel music with Joyann Parker and Mark Lamoine at Crooners.
SATURDAY NOVEMBER 26th @ 4:30 pm ACOUSTIC GOSPEL ROOTS
The rest of 2022 has some great stuff going on as well. I really hope to see you out at a show!
Sunday 11/27 – 8 pm VOLSTEADS – Dean Harrington, Brad Holden and Jay Epstein
Friday 12/2 – 6:30 pm KJs Hideaway – Joyann Parker Band
Saturday 12/3 – 7 pm Winona Arts Center – Sam Miltich & Chris Bates 'The Improvised Life'
Sunday 12/4 – 7:00 pm Chart House – J0yann Parker Tribute to Patsy Cline
Tuesday 12/6 – 7:00 pm MetroNome Brewing – Red Planet 1st Tuesdays
Monday 12/12 – 8:00 pm Icehouse MPLS – Zacc Harris Group / Dan Weiss trio
Monday 12/26 – 8:00 pm Icehouse MPLS – Atlantis Quartet / Sophia Kickhofel's Batik Iris trio
Saturday 12/31 – 7 pm  Crooners – EARLY NYE SHOW with Joyann Parker Band 
Emotion transmitted. Emotion received. Music in the Abstract. Positively.
-cb
*lyric quotes and inspirational phrases courtesy of Neil Peart