The Twin Cities Jazz Festival – special to the Bates Update
The Bates Update -TC JAZZ FESTIVAL time.
Summer has somewhat arrived here at the end of June and that means the TC Jazz Fest is coming up quick. This festival is 100% free and open to the public. This year's fest will feature over 300 local and national musicians performing all over St. Paul, apparently it is the biggest ever! I'm always happy to be involved and look forward to it every year. I love to hear live music and this years listening highlights for me include the  stupendous Branford Marsalis Quartet, the New Orleans groove of the Joe Krown trio and the phenomenal Dianne Reeves! I'm playing a whole bunch and I'm going to be Tweeting and Instagramming all weekend so feel free to follow me there; but really I hope to see you at some of the Festival! Every year gets better and this year is really going to be a ton of fun! Here's my insane schedule, because, crazy.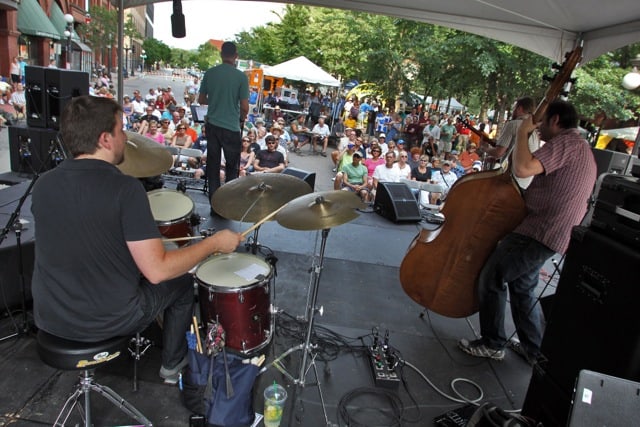 Thursday June 26th  
5pm:  Studio Z
Zeitgeist performs my new piece 'Relay Transmission' along with 3 other premiers of works by Zacc Harris, Davu Seru and Steve Kenny. I'm excited to hear all of these compositions and you can catch it on Thursday and Friday at 5pm at Studio Z. I'll be playing with them on Thursday. 
7:30pm:  Mears Park Main Stage
Atlantis Quartet (Brandon Wozniak, Zacc Harris and Pete Hennig) will headline the Thursday night opening of the festival with a set of our original tunes at 7:30pm. Get down there early so you can catch Foreign Motion  at 6. Cory Wong, Kevin Gastonguay, Yohannes Tona and Petar Janjic are a really ripping it up with their grooving new band! All in all this is a stellar local kickoff to the fest! 
Friday June 27th
4pm:  Mears Park Main Stage
Red Planet has the honor of opening up the weekend festivities with our spirited and joyous musical explorations. Dean Magraw, Jay Epstein and I have been playing together since 2004 or so and we relish every moment together. We can only hope our audience does too. If you've never seen Dean play you should really consider coming out for this one. Dean is one of kind, as is Jay for that matter. Viva musica!!!
6pm: Hat Trick Lounge
Kristin Sponcia Quartet w/ Chris Olson, Dave Stanoch and CB. 
I'm excited to be working with Kristin as she is a great pianist and singer who is highly underrated. Dave, Chris and I have all played together in many contexts and I'm looking forward to this set of Kristin's arrangements and originals. 
8pm: Black Dog Cafe
Donald Washington / Brad Bellows Quartet
This is one of the most fun, spontaneous and organic ensembles I've ever been involved with. We just seem to take an idea out of thin air and make some really fantastic music instantaneously. Catch our first 30 minutes and then head over to the main stage to hear some Branford!
Saturday June 28th
1pm:  6th Street Stage
Axis Mundi is a world music inspired jazz adventure led by guitarist Glen Helgeson. This band also features Dave Stanoch and Daryl Boudreaux. We'll be playing sambas, bossas, tangos, Frisell's and some really grooving African pop influenced tunes. 
4pm:   Mears Parks Main Stage
Adam Meckler Orchestra – 17 pieces. All original compositions by Adam. This band has been steadily building it's repertoire and audience over the last couple of years and we are all super pumped to be playing on the main stage for so many new faces. There will be copies of the new album available at the festival. 
6:30pm: Amsterdam Bar and Hall
Good Vibes Trio! Dave Hagedorn. Phil Hey and I are going to be bringing the most excellent VIBES to the jazz fest this year! Come by and hear us playing tunes from our new album. 
After the Good Vibes set I'll be camping out here at Amsterdam for the remainder of the day. Jazz Central has booked a plethora of stellar talent for these stages. I highly recommend putting this spot on your radar in case of inclement weather. There are plenty of great bands playing Friday and Saturday.
8:30pm:
Dave Karr and Pete Enblom. I'm part of the Jazz Central All Stars Rhythm section holding it down for the lovely and talented Dave Karr on tenor sax and Pete Enblom on trombone. This will be a swinging good time.
11:30:
Pete Whitman invites Framework plus special guest Andres Prado
Framework (Chris Olson, Jay Epstein and CB) have been collaborating with Pete Whitman recently and we are having a super great time playing music together. Add a dose of the amazing Andres Prado and you have the fixings for a real nice late night treat after the Main Stage scene lets out.
Sunday-Friday June 29th- July 4th I'll be teaching Jazz Improv up at the Shell Lake Arts Center. It's my 4th year there and I'm really looking forward to the hang, some great music and golf. 
I hope everyone is having a great summer! See you soon! 
CB