The (Tall) Tale(s) of the Tape – 2017 Year End Update
Happy Holidays and Happy New Year to all of you!
I can't thank you enough for being here and supporting my efforts to bring you quality, homegrown original music with the various ensembles I'm involved in. It is truly humbling. I will do my best to keep the quality up so you can trust the presentations I promote. I want to be a trusted name to you in bringing creatively driven artistic musical projects to the public eye. Please let me know what you think and don't be afraid to say hello at the next show!
We all thought 2016 was crazy but NO!; 2017 has been an even more incredibly difficult year for many, many people on this planet and in this country. It was impossible to not get dark and I found myself spinning out scenarios that go far beyond my normal positive outlook. I spent so much time this year thinking about the negative side of everything. I considered buying a gun (lifelong pacifist). I considered moving my family elsewhere (how could we start over in a new country?? Not impossible but come on that's a lot to make your family go thru). I became super analytical of my own male actions in light of the #metoo movement. I spent a long time in the dark places of my mind and I wasn't sure if I was coming out. I kept a lot of this from my friends and family but I'm putting it out here now because it goes without saying that no one will be untouched by the political wave that has washed over us. Just last night in fact, I re-decided that I have been doing good work and that this year and these thoughts have proven to be a galvanizing process for me. I still can't shake this feeling that we seem to be growing ever closer to an explosive conflict of some sort that will see the world turned end over end. But It IS up to us to be the stewards of change that we want to see in this country and around the world. It becomes ever more important that in order to avoid the reality we are dreading that we have to work even harder to see each other as human brothers and sisters and that we continue to work towards common goals through discourse and discussion. The only way out is through.
Through tough talks and intense interactions we can learn about others and their needs. We can work to see differing points of view. We can educate ourselves and our children to see these seemingly unbridgeable chasms of cognitive dissonance as opportunities to open ourselves up. To become the better listener, the freer thinker, the non-judgmental accepter of difference. I may sound like a naive dreamer at the moment but it's that kind of dreamer that has made the world a better place for all of us generation after generation. We know many of these heroes from our past and we know their deeds (and there are many who are yet undiscovered). Their actions set the table for where we are now and what we believe. How we choose to put our dreams and ideas into action will determine the next place setting. What's next in 2018? I can't predict that but I know I'm working on making this place better for ALL PEOPLE, ALL COLORS, ALL SEXES, ALL BELIEFS. It's what I've learned from my heroes and it's what I'm passing on to my children. I hope you hear that in my music. Thanks for your time and for listening to my thoughts.
_______________________________________________________________________________________________
TALL TALES  Dunsmore Room @ Crooner's  Friday Dec 29th  9pm  $12
Tall Tales features the talents of CB and Jay Epstein in the rhythm section and the twin guitar onslaught of Zacc Harris and Dean Granros. We play mostly the music of Dean with some Monk and other gems thrown in.
DDT & HOAXER  Saturday Night Jazz at the Black Dog  Saturday Dec 30th  7pm  $10
DDT is a long standing trio of Dean Granros, Dave Maslow (bs) and Tony Moreno (dr). A fixture on the 70's scene in MPLS this will be a powerful reunion. Unfortunately Maslow is unable to play due to health concerns so I'm filling in. I have no idea what will happen but I know it will be off the charts given the spontaneous and powerful personalities involved. We play the opening set. Then stick around and hear the wonderful young ensemble Hoaxer (Will Kjeer, Peter Goggin, Charlie Lincoln, Ed Catlin). 'As wave follows wave, so new men take old men's places.'
DAVINA & The Vagabonds  Dakota  Sunday Dec 31st and Monday Jan 1st
My last two shows with Davina this year (perhaps ever as they've hired a full time bassist). I've had a grand time playing with these folks this year and Davina is the REAL DEAL as she delivers EVERY NIGHT! Join us for New Years Eve dinner or late night or two show on New Years Day.
BILL SIMENSON ORCHESTRA  Jazz Central  Tuesday Jan 2nd
Start your New Year off with Bill and his incredibly fun original Big Band Music. We released a CD last year called "Big Alpaca" and the band is sounding so good these days it's just __________ (insert verb here). Also, Jazz Central is a non profit venue that deserves your support as often as you can lend it.
___________________________________________________________________________________
2017 Tale of the Tape:
205 (+,-) gigs played with 56 (or more) unique ensembles.
4 albums released – Bill Simenson, Red Planet w/ Bill Carrothers (4 Star Review in DOWNBEAT!!!), Laura Caviani Mysterious Thelonious, and Laura Caviani Confluence.
80+ bass lessons taught
Educational clinics presented at: Jazz Central, Brooklyn Center HS, Minneapolis South HS, McNally Smith, UofMN Morris and Shell Lake Arts Center.
I was lucky enough to work at the eclectic and fun My Music Store and was sad to see it close in March of this year.
I played at some great jazz festivals this year (U of MN Morris, TC JF, Iowa City JF and Stevens Point JF).
I got a microphone endorsement from REMIC in Denmark and I'm happily using their products live and in the studio.
I'm taking a class in Ableton Live at this small independent school called Slam Academy. It's changing my life and my music for the better.
Among the gig highlights:
I presented three new groups at Jazz Central that I hope to continue presenting next year. The Improvisada Big Band is a large group featuring 3 bassists, 4 drummers, two keyboardists, two guitarists and two horn players improvising to the painting of Stefan Cattaneo. The electric rock palate of Astrologer's Blood (feat; Shon Troth, John Keston and Randy Kramer) went beyond all expectations and the swinging and subtle Acoustic Concussion (Jt Bates, Brad Holden and Javier Santiago) will both be playing more this coming year.
Tatsuya Nakatani was here again this year and successfully recalibrated our ear holes in a marvelous solo set and in quartet with Nathan Hanson and Noah Ophoven-Baldwin.
Red 5 and Good Vibes continued their respective trajectories and I look forward to more with those bands soon.
JC Sanford has become a great collaborator and it's been a joy to get to know his quartet music and to help him launch the Inatnas Orchestra along with his wife Asuka Kakitani!
I made new musical friends with Russ Johnson and Angelica Sanchez and reconnected with Ben Allison. All of these folks are internationally known improvisors and composers. Please check them out.
Special shout out to Cody McKinney for organizing and presenting Reich Fest at the Icehouse. Over the course of four weeks we got to hear an incredible cross section of Steve Reich music performed by so many Twin Cities musical friends. It was an honor to be involved and to perform with Cody on our electric bass version of 'Piano Phase'. Thanks bud!
Atlantis Quartet will be recording a new album in Jan 2018 and we'll be releasing it in the fall. This band continues to surprise and excite us all and we look forward to a very active 2018 so stay tuned for that!!
Thanks to Jazz Central (Mac Santiago, Dave Kunath, John Morgan et al) for providing a platform for all experience levels and all forms of improvised music, The Black Dog (Sara Remke) for being open to everyone and everything, Zacc Harris and Shifting Paradigm Records for providing a much needed outlet and umbrella for creative music in the Midwest and beyond, Brian Liebeck, JT Bates and James Buckley at the Icehouse for continued support and consistency of presentation, The Khyber Pass (Emel Sherzad) for creating a home for free improvisation and open ideas, Davina and the Vagabonds for super fun times, Andrea Canter, Pamela Espeland, Britt Robson, Tim Campbell, Dan Emerson, Kathy Berdan, Larry Englund, all at KBEM & KFAI, Bradford, Gary, Dave, Bill, Tim, Femke, Betsi and Dennis, Jon and Debara, Bruce and Mary Jo and many many more who come to shows and support this thing.
All my musical compatriots and collaborators – you continually inspire me and I thank you.
That about wraps up 2017 folks. Ohhhhhhh wait a second…..
STEVE KENNY you have shouldered a load no one wanted to carry and you have worked your ass off to make it happen on your own dime. No one asked you, but you didn't let that stop your ideas! Thank you for the Black Dog, Reverie, All Originals and now Jazz Central. Much respect sir! May you have an incredible 2018.
OK – NOW we're done. See you all real soon I hope.
Love – cb
There's a free download available through the end of the year at my bandcamp site.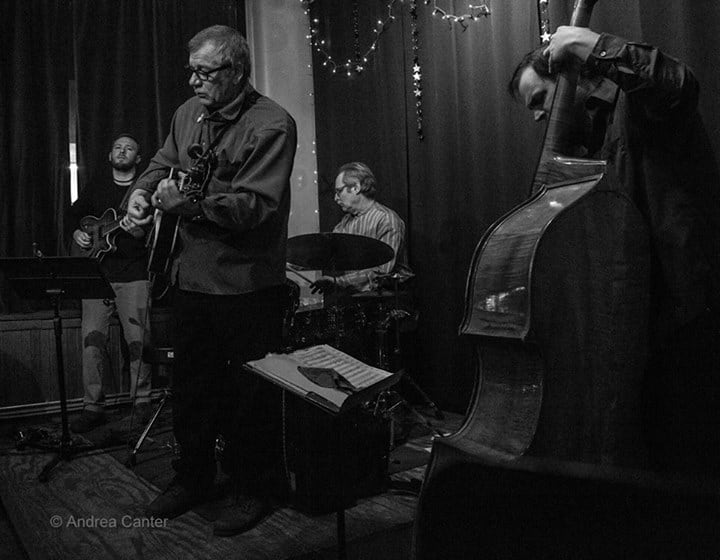 PS – I'm available to play on your album, play in your band, teach bass lessons, coach your ensembles, write your school a song, be a guest artist at your jazz festival and many other things. Please reach out and ask if you have any interest. Thanks.