The Bates Update: May The Fourth Be With You
Well now, it's Star Wars Day in my world and the legendary bassist, Ron Carter's 85th birthday. World's collide and it all makes sense to me. Spring is schpringin' and you can feel the energy of people getting back out in the world and doing stuff. My magnolia tree is getting ready to bloom and many of my perennials are starting to show signs of life. I still have about 20 bags of leaves left over from this fall since the maples don't drop their leaves until the last possible moment, and my yard waste collection stopped the week beforehand. So, plenty to do on the home front, and plenty of practicing to do for these upcoming gigs. But before we get to that I have to say, I have played and attended several shows over the past month and have been so very happy to talk and catch up with many friends and musicians. Everyone has fresh stories to share and mostly, positive outlooks remain. We've all been through a long period of isolation and introspection, and that inevitably brings about changes in the way people think and act, and in what people want out of life. I'm not expecting a return to 'normal', and frankly, I don't want whatever that was anymore. I'm looking at creating a more focused, more deeply impactful approach to my life that includes the best music I love to play and create, and the best things I can provide for my family. Thanks for listening to my quasi-philo-so-phizin' and supporting my musical adventures! I truly appreciate it!
I have two new groups debuting this month!
On Monday 5/9 at Amsterdam at 8pm, the acoustic trio Stray Gray Duck makes its live debut. Featuring Mike Wolter on guitar, Shane Akers on dobro and CB on bass. We draw from all the American musical traditions including jazz, folk, country, rock and soul. Our repertoire incudes songs from Bill Frisell, D'Angelo, Bon Iver, Bob Dylan, Neil Young, and several other artists. Mike put this group together and it has been incubating for several months now. It is really fun and we get into some beautiful spaces. NO COVER!
On Wednesday 5/11 at Mortimer's at 9pm, the Cody Steinmann Trio takes the stage for a one set gig. Abinnet Bernahu plays drums, CB on bass and Cody on guitar. This brand new group plays Cody's original music which ranges from modern jazz ostinatos to rock influenced, dense soundscapes and grooves. Abinnet is one of my favorite younger drummers I've been getting to know over the last couple of years. He brings a deep sense of musical history and a highly energetic touch to the drums. Cody has only been in town a few years as well, and is making great strides bringing his original music to life with several different combinations of musicians. This is a powerful trio, and this old man has to dig in deep to keep up with these young lions!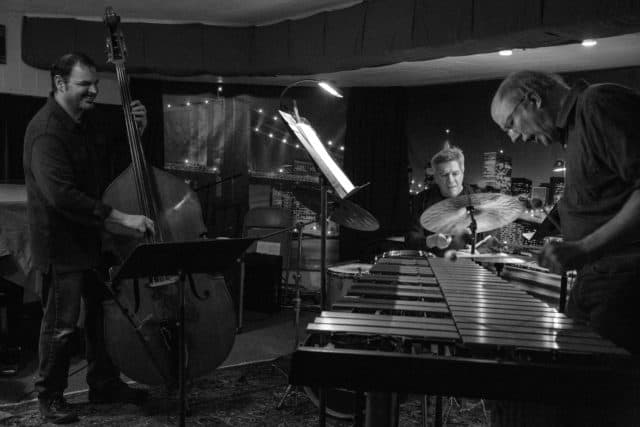 Sunday May 15th the Good Vibes Trio returns to MetroNOME Brewery in St. Paul from 3-5pm. We had a blast playing here a few weeks ago. So join Dave Hagedorn, Phil Hey and myself in this great space, run by great people and serving great beer! I have a feeling MetroNOME is going to become a new space for a lot of really amazing music. They are opening a basement club space in June that will have a grand piano! Good Vibes and a few of my other projects will be playing here more regularly throughout the summer.
Saturday May 28th the Zacc Harris Group takes the stage at KJs Hideaway! Zacc's latest album 'Small Wonders' was released last fall and just recently got a great review in Downbeat (Thanks Bill Milkowski!). We had several amazing shows this fall on our two short tours and we are all excited to play this music for you at KJ's. The lineup includes Zacc on guitar, Bryan Nichols on piano, Jt Bates on drums, CB on bass, Brandon Wozniak and Aaron Hedenstrom on saxes. Big Thanks to Steve Kenny for all his work in curating the shows on Saturdays at KJ's. It's a huge undertaking and he always keeps the quality high. Almost every show is selling out there and that is a great thing for our community!
This months Joyann Parker Shows:
Fri 5/6 Enchanted Barn – Hillsdale, WI
Sat 5/7 Noce – Des Moines, IA
Fri 5/13 Paradise Theatre – Faribault, MN
Wed 5/18 Crooner's – Fridley, MN
As always you can take a look at my calendar right here for any additional shows. Thanks for being YOU!
-cb