The Bates Update March 2014
Apologies are in order as I have inadvertently taken a little hiatus from promotion this past month. I think maybe that was a good thing for me. For those who were worried or bummed, sorry about that. I haven't been idle, just quietly making progress and getting through this rugged winter. The kids had snow days! It was brutally cold! I have a sweet snow fort in my front yard! We all lived through it! Celebrate with some sounds and libations and perhaps some fantastic food at one of the fine, fine establishments I'll be playing at this month.
I had a great time celebrating and helping Zacc Harris' new collective record label Shifting Paradigm get launched at an SRO concert at Studio Z a couple of weeks ago. It was a true pleasure to hear so many of my friends play their music over the course of one night.  The crowd at the Studio Z show had so many Artist Quarter faces and it made me realize just how often I was at that club over the last two months of it's life and how much all of those faces feel like family members. With the AQ closing only two months ago I could feel a connection with the audience that I know was forged at that place. It gives me hope to know that it's the people who will serve to define the next chapter more than the space in the post Artists Quarter era. Incidentally, all of this seems like only yesterday and at the same time a distant memory because of this deep freeze polar vortex enigma we've been slogging through. We should hold a medal ceremony for all the truest, hardiest midwesterners who did NOT get out of town to thaw out this year. I will gladly play music for that party!
There are two big events are on the horizon – one close, one far away.
First off I am pleased to announce the 3rd annual collaboration between the Bach Society of MN and Framework. Over the last three years Framework (Chris Olson, Chris Bates, Jay Epstein) has been involved in a concert series that explores the connections between Baroque and Jazz through collaboration and  improvisation.  This year is very exciting as Chris Olson has created some pieces for the entire group that integrate us into an ensemble. Additionally our special guest is Pete Whitman playing flute and soprano sax. I can't think of another ensemble that has this instrumentation of harpsichord (Paul Boehnke), viola de gamba (Julie Elhard), baroque violin (Jin Kim), sax, guitar, bass and drums. It is a truly unique sound to my ears and hopefully to yours. Please join us this weekend if you can. Here are the concert details.
Friday February 28th @ Bjorling Recital Hall on the Gustavus Adolphus Campus 7:30pm
Saturday March 1st @ 7:30pm  ($5 students, $15 seniors, $20 reg admission)
History Theatre  30 10th Street E. St Paul, MN 55101 online tickets available here: BACHTIX
The other big announcement is that I'll be releasing a new album in early April with the Good Vibes trio. I can't tell you how excited I am for this album to hit your earholes! I think that many of you who are familiar with jazz here in the Twin Cities will be excited to hear that I'm collaborating with Dave Hagedorn and Phil Hey  to tear up some material from Charles Mingus, John Coltrane and Freddie Hubbard along with a few originals. We are very excited about the potential of this trio. It is certainly the most straight ahead jazz album I've recorded.
The Good Vibes CD release party is set for Monday, April 14th at the Icehouse.  Music at 9:30 and 11. Mark your calendars now and I'll be sending out more info regarding a special deal as we get closer. The cover pictured below was created 'live' in concert as the trio played and Tim Nyberg painted.  Tim is a fantastically dry witted, visual and graphic artist and we are happy to feature his work on this project. Here's Timmy! http://www.timnyberg.com/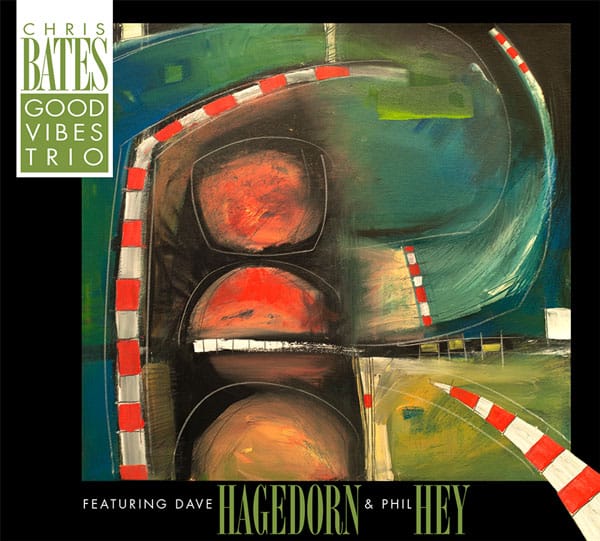 Exciting performances this month include, specifically but not exclusively:
TONIGHT 2/25- Adam Meckler Orchestra debut at Amsterdam $10 21+ 9:00pm
Saturday 3/1 – Framework & Bach Society trio w/ Pete Whitman @ History Theatre 7:30pm
Tuesday 3/4 – Bill Simenson Big Band at Jazz Central 8:30pm All Ages $5-10 donation
Saturday 3/8 – Zacc Harris / Chris Bates duo at Icehouse FREE 6:30-9:30
Sunday 3/9 – Pushing Chain @ Aster Cafe 8pm (Bump Blomberg, Adam Moe and JT & CB) Guitar, violin, vocals!
Wednesday 3/12 – Axis Mundi @ Hell's Kitchen 6pm FREE Glen Helgeson, Gary Schulte, CB & Jay Epstein
Wednesday 3/19 – Barbette w Joey Phillips Trio 10pm FREE
Thursday 3/20 – Atlantis Quartet @ MIA 6pm FREE  3rd Thursday @ MIA Matisse Madness!
Saturday 3/22 – Todd Clouser / Chris Bates duo @ Harriet Brewing 4pm FREE
Monday 3/24 – Fall of the House of Usher @ Icehouse 9:30pm $8 21+ This eclectic band will groove your socks off and is led by Chris Cunningham feat: CB, Greg Schutte, Nelson Devereaux, Adrian Larkin, Elliot Wachs & Jon Davis.
Tuesday 3/25 – Andrew Walesch American Songbook Series @ Pioneer Place in St Cloud.
Monday 3/31 – Leisure Valley @ Icehouse 9:30pm $8 21+ Bruce Thornton, Patrick Harison, Joey Phillips, CB & our special guest, making his first visit to the Valley, Dave Hagedorn!
If you haven't already, check out the Shifting Paradigm website. There are download specials running through the end of February featuring albums from Fat Kid Wednesdays, Atlantis Quartet, Brian Nichols, Graydon Peterson & Zacc Harris. I expect the Red 5 album will be up there shortly.
TTFN and please stay safe the rest of this winter and I hope to see you at a show. More soon regarding the Good Vibes trio release!
CB