So I have been settling in on my new bass; playing gigs, rehearsing, practicing and I had a brief recording session with it as well. It is quite a big change from my old bass, which was certainly to be expected, and everyone seems to be giving me positive feedback about it. I'm very pleased with it myself and I look forward to many years of enjoyment and music making with it. So with that I press onward into the creative, ever morphing, adaptive world of music making that I've carved out for myself.
I've been deep in the mixing world with Red Planet and we've just finished and mastered our new quartet album that features Bill Carrothers. Without to much fanfare I have to say it is quite fantastic and has a sound that is unique to us. If you are familiar with the normal Red Planet approach you will be surprised by the cohesive and deep mood we've conjured up with Bill. We're looking at a late winter/early spring release of Red Planet with Bill Carrothers on Shifting Paradigm Records. This timetable gives us ample room to prepare and get all the logistics in place so the album comes out in a coordinated fashion with gigs and press. We're looking to book some tour dates and possibly some concerts and festivals so if you know any spots you think we'd fit please drop me a line. Every release deserves this type of attention and we're happy to be working with Zacc at Shifting Paradigm to ensure this gets it's proper attention.
There is much music being worked on and projects from the Bill Simenson Orchestra, Leisure Valley, Inventions and DImensions trio, Fall of the House of Usher and Atlantis Quartet are all in process for upcoming releases TBD.
I'm a lucky guy and I love working with my musical cohorts to bring you all the best music we can make. Thanks for you continued support!
Here's the schedule for the next month or so:
TONIGHT! 9/1/16  9pm  $10  All Ages
Tall Tales plays Thursday Night Jazz at the Reverie
Dean Granros, Zacc Harris, Jay Epstein and CB play music from our SPR release! We have not played in several months which means the creative juice will be well fermented and highly volatile! Tall Tales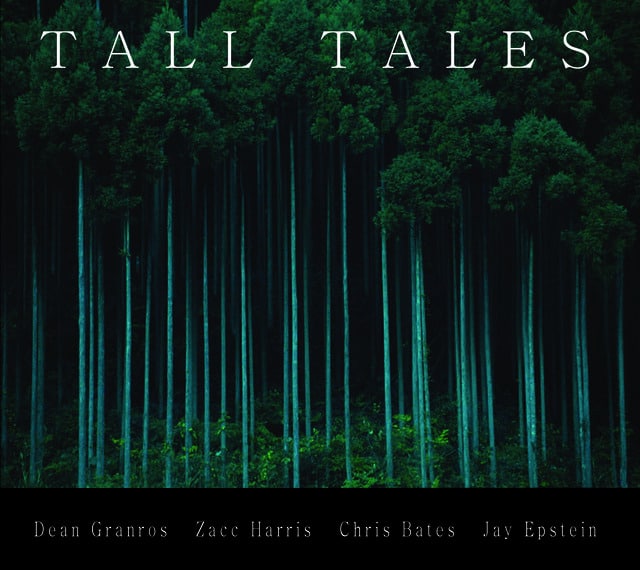 9/4/16  7pm  FREE  All Ages
Zacc Harris trio @ Riverview Wine Bar
9/6/14  8:30pm  $10  All Ages
Bill Simenson Orchestra @ Jazz Central Studios
I've been away from Jazz Central all summer due to my work/childcare schedule so I'm excited to be returning to JC to play with Bill and the band. It's some of the most inventive and exciting big band music I've ever played! Come on down!
9/8/16  9pm  $5  All Ages
Adam Linz / Chris Bates duo and Red Planet @ Khyber Pass Cafe
Adam and I really found a great zone again playing with Tatsuya Nakatani last month so we're excited to do it again. Red Planet has been on a gigging hiatus and we're not sure why BUT we're back! Come hear us and enjoy some of the cities best food at the Khyber Pass! Bass duo 1st set, Red Planet 2nd set.
9/10/16  9pm  FREE  All Ages
Davu Seru Joseph Damman Chris Bates @ Ngon Bistro
9/14/16  8:30pm  $10  All Ages
Magica Improvisada feat: Chris Bates / Davu Seru duo @ Jazz Central
I'm back to leading the second Wednesday of the month at Jazz Central and I couldn't be more excited to kick off the fall than by playing with my great friend and collaborator Davu Seru!
9/15-16/16  9pm  $10  All Ages
Atlantis Quartet @ Vieux Carre
Come help us celebrate 10 years as a band as we play two nights at Vieux Carre! As we've been working on having families (2 babies born and one on the way) since winning the McKnight Fellowship we've had a lot of time to think and develop our band direction. It's starting to pay off as we have some new tunes and tons of new perspective on life. Come hear us and help us celebrate the release of Atlantis Quartet X. It's our new box set of all our previously released albums and some extra special tracks, charts and other goodies thrown in for good measure.
9/19/16 Bryan Nichols, Jt Bates and myself will be up at the University of MN Morris for the start of our new positions as Visiting Artist faculty. It's an exciting development for us and the school as they have a long standing tradition of a strong jazz program. Thanks to Prof. Jonathan Campbell for making this happen. We'll be helping the students over the course of the school year and at their annual Jazz Festival.
9/25/16  11am  FREE  All Ages
The Dolly's @ Icehouse Brunch
9/26/16  Leisure Valley will be releasing our new album 'Welcome to the Valley' up at St. John's University. Bruce Thornton, Patrick Harison, Joey Van Phillips and I are quite excited about this new album which documents a very special group. More soon from this band in MPLS.
Thanks!
cb