Well all I can say is, it's been a long time and a LOT has happened in our world. Totally still here, living life. The family is good. I'm making music, working a PT job at Torpedo / Cronkhite, and also selling these bags as a dealer. My Company is called Bags Groove Music. SO if you happen to need a really, really high quality, good looking, hand-made-in-the-USA, gig bag in leather or cordura feel free to reach out to me. My Shopify store is almost ready to launch but in the meantime you can find me selling these bags on Reverb.
There was a huge concert a couple of weeks back at Hopkins High School celebrating the 50th Anniversary of the Pops Concert and the legacy of HHS music education celebrating my Dad, Don Bates. This is a band variety show that focuses on pop and contemporary music. Special guests included Ben Bussey, Erik Schee, McNasty Brass Band and Dessa! I assembled an alumni Big Band for this and it really turned out to be a spectacular evening. I can't thank the guys enough for playing their butts off and really bringing a great vibe to the concert! Hopefully we can do it again. So many people turned out to greet my Dad and to help bring the band program into a new era. I look forward to the new directions being taken by Nora Tycast as she establishes the 21st century era of Hopkins Band traditions.
In other music related news, about a year ago I recorded a series of improvised duets with my saxophonist friend, Nathan Hanson, at Christ on Capitol Hill Church in St. Paul. We've taken some time to mix this and get the intimacy and sonics to sound right. Our engineer, Caleb Anderson, has done a beautiful job of capturing and mixing this. It is a very different type of musical exploration when you play duets, and Nathan and I are truly listening and reacting to each other in the moment. I'm very excited about this release and I'll keep you posted on when that is coming out.
I've joined up with Joyann Parker as her full time bassist. Joyann is a powerful singer and songwriter who explores blues and soul music. We also do a full Patsy Cline Tribute that has been going strong for over 4 years. So if you like blues, RnB, should and roots sounds come on out to a show with Joyann! We have a great time!
If you take a look at the calendar there is still a whole slew of jazz shows on the books so don't worry, I'm trying to play as much stylistically diverse music as I can and still stay on the jazz! I just played with Bill Carrothers, Dean and Jay last Saturday to a full house at KJ's Hideaway. It was a SUPER fun time and we really got into some great spaces as a quartet. Upcoming shows with Zacc Harris, Framework, Good Vibes, Laura Caviani, Kenny Horst, and JC Sanford with Russ Johnson all point towards the jazz horizon. The idea is to strike a balance between sounds and experiences while keeping my artistic bar at the highest level. I think it's working.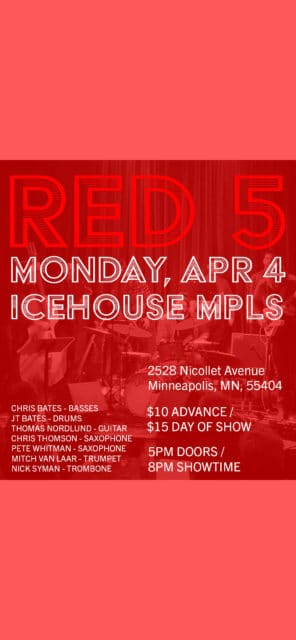 My main reason for this update is to let you all know that my septet, Red 5, is playing this coming Monday 4/4 at Icehouse. My friend Luke Polipnick is curating April and asked Red 5 to play all night to kick off his April Mondays. Luke has an entirely stellar lineup of bands set to play all month so come on out and hang at Icehouse. Here are the details for Monday's show:
Chris Bates Red 5 at Icehouse. Monday 4/4/22 @ 8pm. $15 cover. All Ages welcome.
Chris Bates' Red 5 is the main outlet for Chris Bates' compositional explorations. The original lineup was a chordless quintet and released the album 'New Hope' in 2012. Now expanded to a septet the group continues to be a beautiful outlet for Bates' musical hodge-podge of influences. From Africa, India, funk, prog, and deep jazz Red 5 plays rhythmically and melodically fun music that allows for improvisational exploration. Two saxophones, trumpet, trombone, bass, guitar and drums create a mini big band sound that expresses Chris Bates' musical voice.
Chris Bates – basses
JT Bates – drums
Thomas Nordlund – guitar
Chris Thomson – saxophone
Pete Whitman – saxophone
Mitch Van Laar – trumpet
Nick Syman – trombone
I look forward to seeing you all out and about as we open up into the spring, warmer weather and hopefully the diminishing of Covid to a nuisance. – cb