How are you doing? I'm good. It's my birthday month and as usual, I'm in a reflective mood. I've had a pretty dang good year on the music side of things and overall my family and friends are healthy. That is a win in my opinion and I'm super thankful for it. I've had the great fortune to play and travel quite a bit this year with Davina and the Vagabonds including some serious flight time to Tel Aviv, Israel, and mainland Europe. It's always so enlightening to go to new places and experience life as a visitor in a new culture. Everywhere I've been this year has proven to be filled with smart, honest, hard-working people who love life and want to make the world a better place. The ability to hide behind your computer screen or smart device and spew your opinions at someone else does not hold a candle to interacting and talking with individuals face to face. I've seen a big chunk of the world this year and I'm hopeful that it's not all going down the tubes. That does not mean that I'm ignoring the immense amount of work (on a myriad of issues) we need to address here in the homeland, it's just making me look at the person across from me with more humility and compassion. Connections are way more important than divisions and I'm hoping that my music-making helps people connect to each other and offers some sense of a wider perspective that softens the harsh tones of our conversations. Music can unite, heal and offer solace by providing a sound world to sink in to.
I have some really nice shows this month that will be filled with great people making incredible music so I hope to see you out and about, widening your perspective! It's been a while since a full Bates Update so here we go:
Saturday 11/2 JC Sanford Quartet @ Imminent Brewing in Northfield 8 pm FREE. This is the second CD release show for JC's new album "Keratoconus". The band consists of Zacc Harris, JT Bates and myself. It's a fun album that covers a wide range of musical territory. Check out this review, and maybe we'll see you in Northfield?!
Monday 11/4 Cody McKinney Presents Mini Reich Fest @ Icehouse in Minneapolis 9 pm $10. Cody might be one of the most adventurous musicians I know and he's put together a whole month of fantastic music for his Icehouse Residency. Tonight is a rare chance to hear several of Steve Reich's pieces performed live by a whole host of great musicians. Pat O'Keefe (cl) performs New York Counterpoint. Joey Van Phillips + JT Bates + Peter Hennig + Martin Dosh + Lars-Erik Larson (wd) performs Music for Pieces of Wood. Peter Hennig + Cody McKinney performs Clapping Music. Cody McKinney + Chris Bates performs Piano Phase (arr. for 2 elec. basses). Mike Hodnick (Kindohm) performs It's Gonna Rain.
Tuesday 11/5 Bill Simenson Orchestra @ Jazz Central 8 pm $10 All Ages. I've been playing with Bill for a long time and this band is such a treat to play with! Original music, tremendous musicians, punny titles! What's stopping you from attending???
Friday & Saturday 11/8-9 Chris Bates Brandon Wozniak Joey Van Phillips trio @ Icehouse 6-9 pm FREE. This trio has played many times over the last few years, but mostly at private engagements. We'll be busting out many classic jazz standards and having a good old time for these dinner sets. Stop on by!
Sunday 11/10 JC Sanford trio (Chris Bates & Pete James Johnson) @ Rochester City Jazz Festival 4 pm. A day-long Jazz Festival full of fun food and delicious music held at the Castle Community Building.
Monday 11/11 Peter Kogan's Monsterful Wonderband @ Jazz Central 8:30 pm $10 All Ages. Drummer Peter Kogan has released three CDs of original material and this band is the lineup that tackles his tunes head-on. Peter Whitman sax , Jake Baldwin tpt, Dave Graf tbn, Geoff LeCrone gtr, Larry McDonough pno and CB bass. Jamm Sessionn Followss so bring you axe and sit inn.
Wednesday 11/13 Chris Bates Presents FRAMEWORK @ Jazz Central 8:30 pm $10 All Ages. On the eve of my 49th birthday, I am pleased and flipped to play with the longest-running collaborative group I have been a part of! Framework (Chris Olson, Jay Epstein, CB) is a highly charged trio whose one self-titled album is filled with originals that highlight the empathy and energy of our long-standing friendship. Together since 1997 we've been able to explore a great range of musical sensibilities; from collaborations with cellist Matt Turner, saxophonist Pete Whitman, trumpeter Dave Cooper, vibraphonist Dave Hagedorn, and a series of Bach meets Jazz collaborations with the MN Bach Society, the musical journey has provided many satisfying moments. But, returning to the trio format has always proven to be the most satisfying and so we invite you to come and join us as we explore our original compositions. CB Birthday beverages after!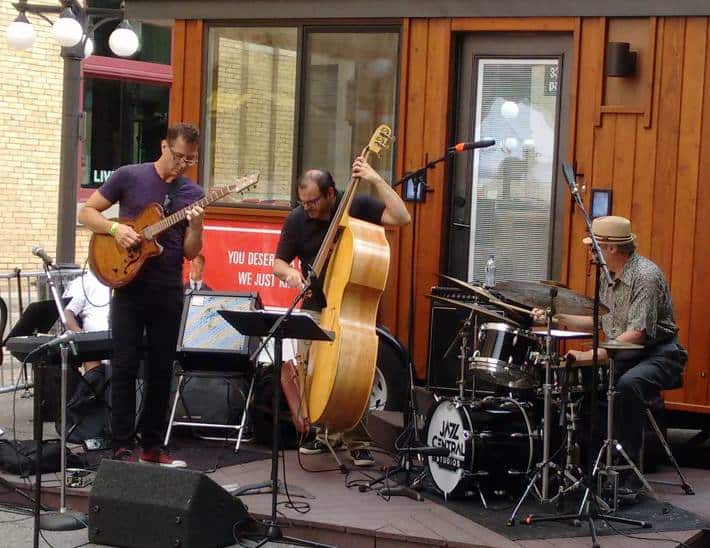 Friday 11/15 Acoustic Concussion House Concert 7:30 pm $20 suggested donation Limited Seating. Acoustic Concussion is a collaboration between Brad Holden and the Bates Brothers and features Bryan Nichols and Joe Mayo too! We play the music of Lee Konitz, Ornette Coleman, and Sam Rivers. This concert is a first attempt at providing a more intimate and unique setting for the music and will be hosted at Brad and Lisa Holden's home. Light snacks and refreshments will be provided, and feel free to BYO beverage. Please reach out directly to Brad if you are interested in reserving a spot for this concert.
Saturday 11/16 Zacc Harris Group @ Jazz at Studio Z 7 pm $12 advance $15 door All Ages. Zacc Harris has been a great friend and collaborator for over a decade now. His ambitious ideas have helped launch the Atlantis Quartet, Jazz at Studio Z and Shifting Paradigm records. He consistently plays with and presents the top-level talent in the Twin Cities and beyond. Join Zacc, Chris and JT Bates, Bryan Nichols and Brandon Wozniak for a night of original material that will be released on the upcoming Zacc Harris Group album in 2020.
Monday 11/18 Jay Epstein & CB present Anew Quartet @ Black Dog 7 pm $10 All Ages. The Anew Quartet made their debut performance in the summer of 2019 at Jazz Central. The group features Peter Goggin on sax, Patrick Adkins on piano, Jay Esptein on drums and CB on bass. We're filling in for the mighty Red Planet on this Monday. We hope you'll come hear this great new group that plays music from many places including several of my originals.
Friday 11/22 '58 Belvedere @ Icehouse 6-9 pm FREE All Ages. Dean Granros, Dave Power and CB bring the roar of this classic V8 to life in the new musical '58 BVDs'!!!
Saturday 11/23 Chris Bates' Red 5 @ Widespot Performing Arts Center 7 pm $15 All Ages. Red 5 is heading out of town to Stockholm, WI for our first ever gig outside to the Twin Cities! If you love this music please pass along this info to your friends in WI. Super thankful and excited to play at the Widepsot as part of their 2019-2020 concert series. All info in the above link for tickets. The band is CB – basses, Tom Nordlund – gtr, Pete James Johnson – drums, Brandon Wozniak & Chris Thomson – saxes, Jake Baldwin – trumpet and JC Sanford – trombone.
Monday 11/25 Cody McKinney Presents Bass Orchestra & Trio @ Icehouse in Minneapolis 9 pm $10. Cody might be one of the most adventurous musicians I know and he's put together a whole month of fantastic music for his Icehouse Residency. Tonight will feature a collaboration between CB, Cody, Erik Fratzke, Jeff Bailey, Graydon Peterson, Liz Draper, Josh Granowski, Megan Mahoney, Ted Olsen, and Charlie Lincoln, in a (possibly) brown note inducing Bass Orchestra. Then stick around for the second set to hear Bryan Nichols, Lars-Erik Larson and Cody play in trio format. Truly an awesome spectacle!
Along with all these shows I've got fun things lined up for December, January and a special announcement coming soon about February. I recently debuted some new music for Red 5 and that will hopefully turn into a new album in 2020. Fingers crossed. Does anyone have ten grand??? I have also been very behind in updating my website discography and I recently added several releases to my portfolio from the last few years, so if you go thru here you can click on any album cover and links to all of that music should pop up in a new window. Happy browsing!
That will wrap it up for November folks. It's a real privilege, pleasure and honor to make music for a living. I certainly couldn't do that without all of you faithful supporters. Thank you so much for your continued involvement in my life and in the Twin Cities live music scene! But hey, enough of my yakking. Whattaya say? Let's boogie! – CB