The Bates Update – June Tunes, what a boon!
It has been a really busy year so far and I'm very happy about everything that's happened and I'm looking forward to some great music making this month with a mixture of old and new friends. It is finally the time of year where we mow, grill, garden and get to the cabin. Outdoor festivals abound and June is the month of our Twin Cities Jazz Festival – so please consider attending this free outdoor festival in Mears Park.
All the info is here: http://www.hotsummerjazz.com/. In addition to the festival I'll be playing down at the AQ a few times and over at Jazz Central too. I would love to see you all at a show. Hopefully you can find the time to check out the music.
Friday and Saturday June 7-8  9pm  $10 All Ages welcome
HOW BIRDS WORK @ the Artists Quarter
HBW features the grand piano magic of Peter Schimke; the guitar genius of Dean Granros; the mercurial drumming of Kenny Horst and Chris Bates on bass. We used to play ALL the time. We have't been playing to often now so when we do it's a knock down drag out no holds barred fun fest of musical mayhem. Really. It's shocking how  good these guys are. I highly reccomend this show.
Wednesday June 12  8:30pm  $5-10 donation  All Ages welcome
Chris Bates' Magica Improvisado: feat LBS trio (Lozier, Bates, Suarez)
My regular Wednesday night gig continues with this great trio of trumpet, bass and drums. This monthly showcase gig has been a great outlet for me to feature all sorts of musical comrades of mine and continues to build in popularity. Come hear us explore together.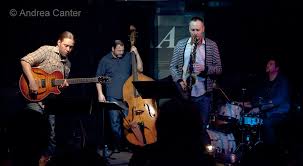 Friday and Saturday June 14-15 9pm  $10  All Ages welcome
ATLANTIS QUARTET @ the Artists Quarter
Atlantis Quartet is one of the premier modern jazz outfits working in the Twin Cities and the midwest. We are hell bent on bringing you the finest in original forward thinking music drenched in a slurry of modernity. All members of this band write music specifically for the ensemble and our latest batch of tunes was recorded in December and will be released in the fall of this year. Hopefully that release will be on a label that can help us take the band father than we have already. Atlantis features: Brandon Wozniak on saxophone, Zacc Harris on guitar. Pete Hennig on drums and CB on bass.
Monday June 17  9pm  $5 donation  All Ages Welcome
DEAN MAGRAW @ Jazz Central Studios
Dean is possibly my favorite musician in the Twin Cities. He is charming and musically adventurous. I'll be playing trio with Dean and Mac Santiago as part of JC's Monday night series.
Twin Cities Jazz Festival:
Thursday June 27th
– 9pm @ Black Dog with Brad Bellows and Donald Washington
Saturday June 29th
– 4:30pm @ the Depot Stage with Atlantis Quartet
6pm @ Mears Park Main Stage with Matt Slocum Quartet feat. Walter Smith III, Bryan Nichols and CB
Have a great June everyone!!!
cb