bates update: bass camp looming, sure to be good vibes delivered to low blows
It's hard to say anything right now without fear. I've run the gamut in my own personal feelings on recent events from total despair to hate to love and back again. Over and over. We keep repeating ourselves by getting trapped in our fears to often. Our viral nature, our behavior patterns, our long tail genetic programming all point to our lack of understanding and our refusal to adapt beyond our basic fears. Fears that many generations have passed onto one another are now exacerbated and accelerated by sound bites and televised hysteria manufactured to keep us fighting each other while the profits trickle upwards and we inch closer to the making of our own extinction. I post no solutions but offer up my services to anyone who wants to talk about any of it – guns, racism, hate, fear, sexism – anything. Really. Let's just talk. I know that the more we interface with each other in person then we have a greater chance to see with eyes unclouded because we begin to see the human next to us.
So I'm Hoping to put out a bunch of positive energy into the world over the next few months. We need a significant shift in our trajectory as humans and I believe it can happen if we put in the work. It certainly won't be easy and as with most work situations good communication will be the key. One of the best ways to be an effective communicator is to listen and be receptive to other peoples ideas. I know when I play improvised music I'm pushed into new areas by my bandmates. I only hear it when I'm open to it. That can be scary and so I need to keep my wits about me as I'm challenged by new and fresh input from night to night. It's in this mode that i do my best communicating and I definitely feel different moods and feelings from my fellow bandmates every night (set to set). I love it! It makes me realign my own energies (song to song). I don't reject it (measure to measure). I use it to find a new path (beat to beat).
Live shows thru summer's end are as follows:
Thursday July 21st:  9pm  $10
Zacc Harris Group at Reverie – This is a great group that features Zacc's compositions and the rhythm stylings of Pete Hennig, Bryan Nichols and myself. Zacc runs Shifting Paradigm records where much of the best original improvised music in the Twin Cities is being released. It's all really good stuff folks so come on out. Sound Skirmish opens and features some very creative young players on the scene.
Friday July 22nd:  Augustana Lutheran Church  7pm  All Ages
Chris Bates solo set! I'll be playing a wonderful triple bill with two other bassists as part of the Twin Cities Bass Camp. Maggie Hasspacher and Ted Botsford round out the concert. All the info you need regarding the Twin Cities Bass Camp is right here: TC Bass Camp. Please consider attending one or more of the concerts being presented from 7/22-7/26. The full schedule is in the link but the big one to shoot for is Monday 7/25 when Francois Rabbath gives his solo recital. His energy and musicality are unmatched and you will FEEL IT. He's 85 and truly is a guru and master teacher. I'm incredibly honored to be involved in this camp and I'd like to personally thank Doan Brian Roessler for his invitation to teach here this year. Bass Love!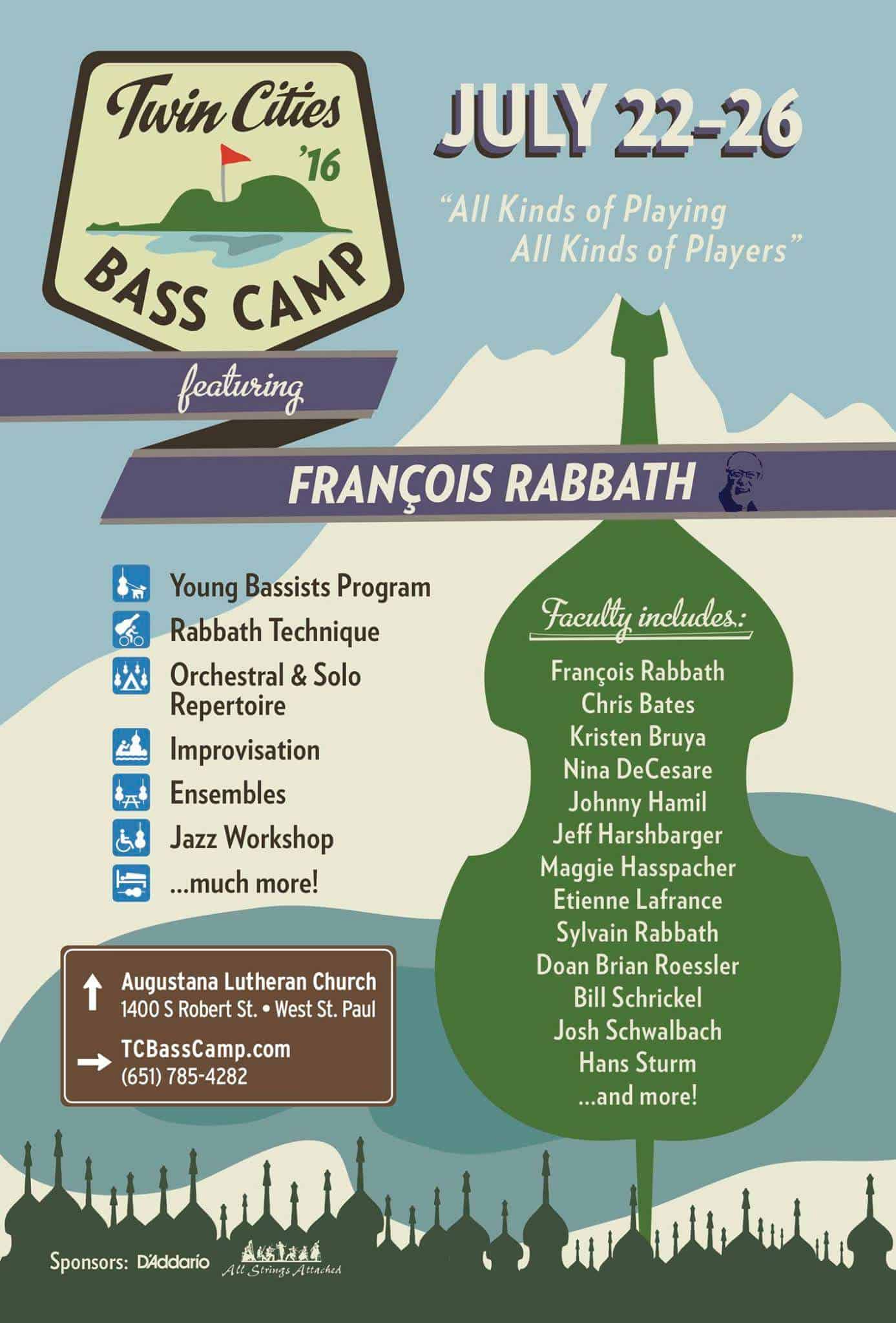 Sunday July 25th:
Atlantis Quartet @ Rochester City Jazz Festival  6:30pm  All Ages
Atlantis is headlining this day long festival down in Rochester. It's going to be a fantastic time so make plans to take a road trip and come check us out. Atlantis plays in the Rochester Civic Theatre at 6:30 but there is music and a jam session outside starting at 12pm.
We're hard at work writing new tunes and preparing to push hard into 2017 with a new album and hopefully some good touring. If you want to book this award winning band for concerts and/or workshops please feel free to contact us through our website linked above.
Saturday July 30th:  12:30-4pm  FREE  ALL AGES
Not a gig but a really great event that benefits the Animal Humane Society. i've been working at this small but very happening music store called My Music out here in Golden Valley. Every summer they hold a crazy event called the Guitar Toss. For a 'buck a chuck' you can throw old unplayable guitars into a dumpster for swag prizes. Every throw enters you into a bigger drawing for some great prizes donated by our vendors. We have guitars from Yamaha, Godin and Washburn. Ukeleles from Kala. Effects from Tech 21, NuNu and Rocktron and a bunch of smaller stuff like cables etc. Head over to the Facebook event for all the details: Guitar Toss. This is the 17th annual toss and we'll have three great bands playing: Ayvah (R&B/NeoSoul) @ 12:30, Slum Boys (blues/rock) @ 1:45 & Jim Jimnak feat: Will Jensen and Jt Bates (blues) @ 3pm. There will be a sidewalk sale and our main man Jim Harms will be around telling jokes and hanging. Come out and support the Animal Humane Society.
Sunday July 31st:  7-9pm  All Ages  FREE
Zacc Harris trio @ Riverview Wine Bar. I'll be playing with Zacc and Pete in mini Atlantis formation.
Friday August 5th:  7:30-9pm  All Ages FREE
Klezmerica plays hot Klezmer music @ Rice Park in St. Paul. Jay Epstein, Adam Meckler, Carolyn Boulay, Joe Vass and Bruce Thornton round out this fun and stellar ensemble.
Sunday August 7th:  7pm  $10-20 sliding scale  All Ages
Tatsuya Nakatani, Adam Linz and Chris Bates @ Studio Z. We'll reprise our collaboration from a few years ago with Tatsuya. His remarkable gifts of sound, color and texture on percussion, gongs and drums will highly compliment the tones from Adam and I and our wonderfully acoustic basses. Tatsuya tours the country every year in a grassroots style where he interfaces and builds his audience through word of mouth. He drives his van, cooks and sleeps on the road and has woven a beautiful web of connections throughout the US. He's been at it, in this way, for over a decade and I urge you to check out his website and see his schedule to reveal just how ambitious he is. Truly inspiring! This will be a special night of improvisation!
— I'll probably have more gigs in between the 7th and 29th but I'm going out to Denver to pick up my new upright bass during this window. It's going to be a very inspiring fall as I delve into making sounds with this new instrument built by Kent McLagan. I've been playing the same upright bass since i was 14. All told we have 30 year history together. Why change now? Because the only thing permanent is change. I've longed for a different instrument for at least 15 years. I've played many basses and fretted over how I would pay for something that essentially equals buying a new car. Kent has built basses for some of my favorite players; Anthony Cox, Mark Dresser and Mark Helias (google them). It seemed like a no brainer when he told me the price and I realized I could keep my current bass and get this one – hand carved and built to feel like my current bass. So I'll be out of town from 8/11-14 and then I'll be very invisible as I get to know my new friend. —
Thursday August 18th:  10pm  $8 advance / $10 at the door  21+
Trent Baarspul CD Release event @ Icehouse! Trent is a very talented guitarist who recently moved out to Portland, OR. He lived here for a time and I was lucky enough to record a few tunes that made it onto his new album. I'm stoked to be playing with this really incredible bunch of folks and helping Trent get this project off the ground. The band is out of sight and the tunes are really fantastic! Trent – gtr, Jake Baldwin – tpt, Nelson Devereaux – sax, Kevin Gastonguay – keys, Pete Hennig – drums, CB – bass. Here's a You Tube link from the session: Sober Monday
Monday August 29th:  10pm  $8  21+
Good Vibes VS. Low Blows in a Jazz Implosion Cage Match @ Icehouse! Many moons ago I had a band called Low Blows with Jt Bates and Dave Hagedorn. I don't like to talk about music this way to much but – We KILLED. Every night. It was magic. That band faded out over time. Then I formed Good Vibes with Phil Hey and Dave Hagedorn. That band also KILLS every night. Well, we're going to combine forces at the end of August and it's going to be a blast! Jt and Phil will play some duets and then we'll pull out all the stops and play double drums, bass and vibes. You're going to love it. It'll make you laugh just like we do after each song is over. It's the spirit of the people, the rhythm of the people. Don't be shy. Check it out.
Thursday Sept 1st:  9pm  $10  All Ages
Tall Tales @ Reverie. Zacc Harris and Dean Granros. Jay Epstein and Chris Bates. Weaving myths and melting minds since 2013. Our album came out a bit ago but it's still fresh. Here's a video of us playing a great Dean tune called 'Blues for Al'
"Nothing will stop you from being creative so effectively as the fear of making a mistake." John Cleese
So, Here's the deal ya see.
You gotta get out there and get after it ya hear?!
Yeah, yeah. Yeah, yeah.
Ok see you soon.
-cb