April showers bring May flowers.
The Bates Update
Last Friday I was playing a gig on a hotel deck in San Jose Del Cabo, Mexico with my friend, guitarist Todd Clouser. John Medeski (from Medeski, Martin and Wood, John Scofield etc) played keyboards and Anton Fier (Lounge Lizards, Feelies, Pere Ubu, Bill Laswell etc) was on drums. We had been gathered up to play a bunch of new music of Todd's and it was fascinating to be in the middle of all the intense musical energy emanating from the stage. Everyone was open and connected confidently to the songs. It was enormous fun to play music with these guys and experience that raw connection when musical chemistry gels around great songs and you feel the band elevate and bring the audience right along with them! It's these small, subtle moments that contain some of my favorite musical memories.
April Performance Highlights
Wednesday April 10th: Chris Bates' Magica Improvisado
Jazz Central Studios   8:30pm   $5-10 donation.
ENORMOUS QUARTET: This is a long standing band I have had with some of my greatest musical friends. It has been dormant for the last few years but we are bringing it back for you now because we can. Is it a comeback? Let's play the first game and find out?? Please join Park Evans on guitar, Chris Thomson on sax, Joey Phillips on drums and CB on bass as we play a crazy mix of original music, jazz standards and covers by Thom Yorke, Kevin Drew, Flaming Lips and The Police.
Friday April 12th: Todd Clouser & A.L.E. @ Amsterdam   Midnight set.
Saturday April 20th: Riverview Cafe   8pm   $10   All Ages
Zacc Harris Quartet: Come on out to the intimate Riverview Cafe for their annual listening event. I'll be playing bass with Zacc on guitar, Bryan Nichols on keys and Jt Bates on drums. There will be plenty of music from Zacc's CD "The Garden" and some new music as well! Always an awesome time playing with these fine fresh fellows. www.zaccharris.com
Sunday April 21st: Landmark Center Auditorium   4pm   $15   All Ages
Red Planet and Twin Cities Jazz Society present "The Spirit of 'Trane".
This will be a very special early evening concert featuring Red Planet playing the music of John Coltrane. Red Planet IS: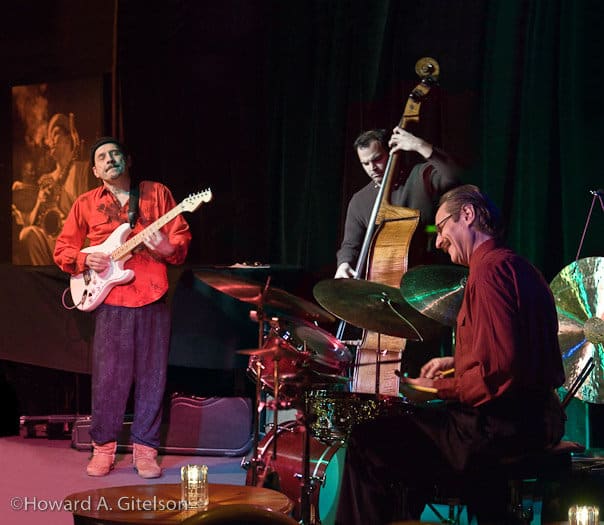 Dean Magraw on guitar, Jay Epstein on drums and CB on bass. We have been playing and drawing inspiration from John Coltrane for our entire musical lives and we would be thrilled if you joined us for this special presentation of his music. http://www.tcjs.org/ for ticket and concert info.
Also this month I'll be finishing the mixing for the Grease Gun project. Atlantis Quartet is also finishing up the mixing on our next record so stay tuned for more new music in the next few months. Stay classy!